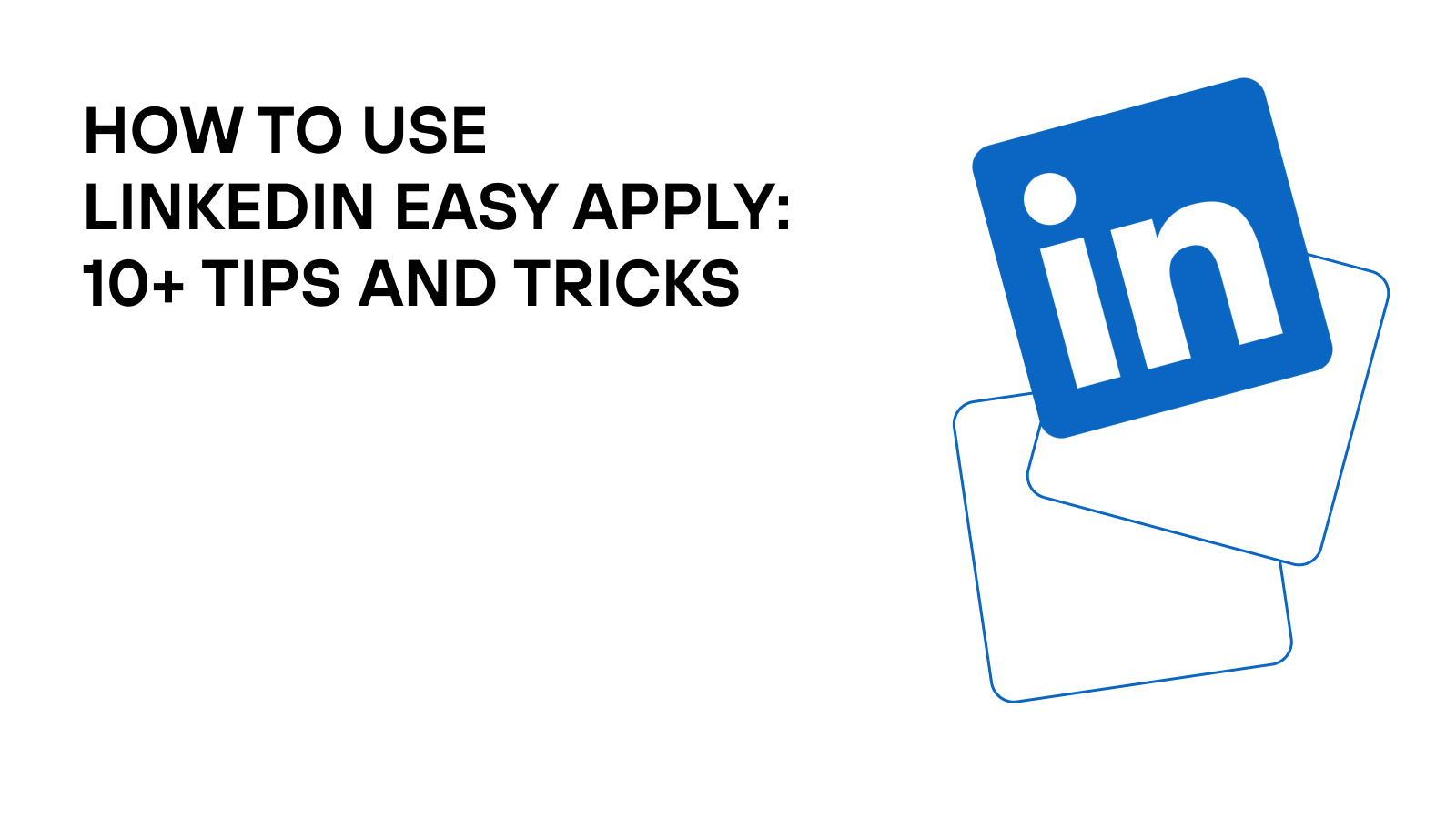 LinkedIn is a popular networking platform that is used by both job seekers and employers. Those looking for work like to use LinkedIn because a number of open job positions are advertised on the site on a daily basis, and the platform offers a variety of opportunities for career development too. Employers, on the other hand, use LinkedIn to search for talented professionals.
One very likable feature of LinkedIn is its "Jobs" section. Many users like this section because you can use various filters to search for work and, in turn, you get more focused results back surrounding a particular career you're interested in.
However, almost every job search has its ups and downs, even if you can filter and find jobs quickly. The journey usually starts with a resume being written, and then this resume getting tailored to match as many job postings as possible. Additional time is then spent building a LinkedIn profile to match the resume that has been created, and this is swiftly followed by interview preparation.
And while this has been the tradition for many years, it can be a very time consuming process, that doesn't always end in joy. Quite often, resumes and LinkedIn profiles don't match the market demands and this can limit the amount of interviews people receive.
Some candidates will, of course, try to match their resume with each job posting they apply for, but others don't care all that much and they'll send out a standard resume regardless of the job.
So, what can you do to speed up the job searching process, and to try and send out as many applications as possible? You can use LinkedIn's "Easy Apply" button!
It's very easy to use LinkedIn's "Easy Apply" button, in fact, according to the feedback of some of Careerist's graduates, the button is one of the most effective tools job seekers can use when applying for work in the IT industry.
Discover more about "Easy Apply" below!
‍
What Is "Easy Apply" on LinkedIn?
"Easy Apply" is a button that appears on some job postings on LinkedIn. And pressing this button allows candidates to apply very quickly for jobs.
In general, all of a candidate's information is automatically filled in, and all the person has to do is check the information, attach a resume and send the application to the company in question. The entire process can take a few minutes to complete, and can work out very effectively for candidates that have a number of positions to apply for.
Although the "Easy Apply" button is liked by several LinkedIn users, it doesn't actually appear on every job posting. Basically, it's up to the employer who's posting the open vacancy to decide whether they want candidates to use the "Easy Apply" function or not.
There are a number of employers who opt to leave out this ability, therefore, candidates wishing to apply for these jobs must apply through normal means.
‍
How To Use LinkedIn's "Easy Apply" Button
It's incredibly simple to use the "Easy Apply" feature on LinkedIn. All you need to do is click on the button when it appears on a job posting. When you click on the "Easy Apply" button, it'll share your main profile information with the person who has posted the job opportunity.
This information includes your employment history, with all the names and job titles you've held in the past.
In short, the main information about you will be sent away to the recruitment team, and you don't have to leave LinkedIn at all to apply for the role at hand.
In some cases a company may not reply back to you for a long time, but there are many reasons why this might be happening. For example, the job posting may have changed or the vacancy might've been put "on hold". Don't be too disheartened if you don't get an immediate response - just keeping going with your job search.
However, before you can actually use the "Easy Apply" button to apply for work on LinkedIn, you must first get acquainted with LinkedIn itself.
So how do you create an account on LinkedIn, and how do you make your profile stand out from other specialists? Keep on reading to find out.
‍
Step 1. Create a LinkedIn account
The first step you'll need to do is to sign up to LinkedIn. You can do this in a matter of minutes by visiting their website and signing up there.
Once you've completed this step you'll need to start putting your profile together. LinkedIn requires you to add precise and accurate information about yourself and your working life experiences. Don't be afraid to add details about your previous jobs on LinkedIn. It's expected that you discuss such topics on the platform.
This info matters because it is something employers look at and read when they are searching for their perfect candidate.
Share your other experiences too, like your education, skills and interests and so on.
In addition to this, it's worth trying to tailor the information you put on your profile to focus on your field of interest too.
Once you've done this you are halfway to finding a company and a job for yourself.
‍
Step 2. Specify your job title
You will need to create a searchable and well-known job title for yourself. The job title on your profile will be imperative, and it is likely to be one of the first things recruiters read about you.
For example, when a recruiter searches for a "Manual QA Engineer", your profile is likely to come up if you use these words in your job title.
Some other good job title examples also include "QA Automation Engineer", "Systems Engineer", or "Sales Engineer".
‍
Step 3. Use filters during your job search
There is no need to scroll down through pages and pages of open job postings just to find the jobs you like - use the filters on LinkedIn to search out jobs that are specific to your industry of choice.
You should filter down your results by location and type of job you want (remote/onsite/hybrid), for example.
Don't rush in, spend time going through the filters so you can draw a picture of your dream job. When you're done you'll be able to see what jobs match your criteria.
Once the job search is well underway, you will spot the "Easy Apply" button popping up next to jobs.
‍
Step 4. Look out for the "Easy Apply" button
The sad truth is that not all job postings will give you the option of using the "Easy Apply" button, instead you will have to apply through the normal process for these jobs.
That being said, a good amount of jobs should have the "Easy Apply" button next to them, but do keep in mind that the situation changes every single day.
You will have to be patient if you plan on using the "Easy Apply" button continuously during your job search, and you may have to actively search out job postings that come with this feature too.
However, if you see an interesting job opportunity that doesn't come with an "Easy Apply" button you shouldn't ignore this job, you should apply for it through the normal means. You'll typically be redirected to the company's recruitment page and you can apply there.
‍
Step 5: Apply for a job using the "Easy Apply" button
When you click the "Easy Apply" button you'll stay on LinkedIn, you will be guided through some steps and you'll quickly apply for the role at hand. There is usually an opportunity to attach your resume to the application, and once you've done this you just submit your application.
The application will not be big or time consuming to fill out. It will instead be a very quick process, which is the main attraction of this function.
‍
Step 6. Apply a lot - apply every single day!
It usually takes time to get used to something new, and LinkedIn and its "Easy Apply" button are no exception to this.
Using the "Easy Apply" button will allow you to save time and to send out more applications. So, it might make the job searching process easier for you, and it's a good place to start your job search.
Nonetheless, applying for work as usual is still necessary because the "Easy Apply" button may not be applicable to all jobs. If you apply for work like this you will probably spend up to an hour filling in an application, and you're likely to have to tailor your resume extra carefully for each job posting. But it will be essential in some cases.
Although, you should also keep in mind that applying only in this manner does not guarantee that all recruiters will get back to you. There's still a chance that hiring teams will forget to contact you.
‍
Steps To Take Before You Click "Easy Apply" On LinkedIn
Diving in at the deep end and randomly clicking "Easy Apply" whenever you see it pop up on a job posting isn't the best idea. Instead, you should try and prepare your profile as much as you can before you start clicking. Here is a brief checklist of what you need to consider doing before starting to apply for jobs through "Easy Apply".
‍
Step 1. Update your resume and LinkedIn profile
Check that your resume and LinkedIn profile are up-to-date. Make sure that all the descriptions you've listed show your skills and achievements.
Don't allow your resume and profile to get bogged down with long winded stories - keep them as brief as possible, while still highlighting how you're a good fit for the role you desire.
‍
Step 2. Skim over job postings
If your aim is to apply for as many jobs as possible, then you won't have the time or the energy to thoroughly read through every job description. Of course, you have to check the job title, the job's location, and other points that are essential for you. But perhaps skimming over job descriptions might be more useful.
Let's be honest, there is no job posting in the world that will be an exact match for your skills and experience. And if you start reading all the tiny details, you will quickly see skill mismatches, and this may prevent you from taking a step forward and applying for the job you really like the sound of. You could miss out on a great opportunity because of this.
When you do read job descriptions and you see skill mismatches, instead of walking away from the job posting, you should make a note of the skills that you are worried about. For example, it could be about a certain piece of software or something to do with coding that you don't understand. You can then go and find additional trainings and books to boost your skills and knowledge in these areas.
And it's also a good idea to ask the hiring manager of a job about the things you are concerned about - they may be able to advise you on a way forward.
‍
Step 3. Show recruiters that you understand the role you're applying for
Your LinkedIn profile should show recruiters that you understand the responsibilities of the job you are applying for. Don't make recruiters ask you why you want a particular job - let your LinkedIn profile speak for itself, and let it highlight your skills that fit the job you want.
‍
Step 4. Pay attention to your "Headline" and "About" sections
A headline isn't something that should be copied and pasted from your resume. A headline is there to show recruiters what value you could bring to a company. You only have around 50 words to really sell yourself in this section. So, don't waste words, write down things that are going to make a real difference.
The "About" section is where you can tell recruiters more about you. You should demonstrate that you have skills that are related to the job you'd like to have and your career values. You want to show employers that you're the ideal employee who'll fit perfectly into their company.
‍
Step 5. Use relevant keywords
You need to use keywords on your profile because they stand out to recruiters. Plus, recruiters use keywords to search for potential employees, so the more relevant your keywords are the better your chances are of being found by a company.
If you're not sure what keywords to use, look at other candidates' profiles to see what keywords they use.
The top keywords in the Quality Assurance field are keywords related to job titles, like QA Automation, keywords related to tools used in the industry, like Jira, and keywords related to software used in the field, like Selenium.
Don't forget to use keywords when you're discussing your interpersonal skills too. They really shouldn't be ignored - they matter a lot, especially in the tech industry.
‍
Step 6. Don't apply with zero-connections on your profile
Try and build up your network of connections. These connections can be made up of recruiters, hiring managers, and some other specialists you adore.
It's also a great idea to connect with someone from the company you wish to work for before you apply for a job at their company. It's helpful to build a healthy relationship with them before you ask them for something in return, like assistance.
There have been cases when some of our graduates here at Careerist have reached out to, and formed relationships with, recruiters from companies they wanted to work at. In turn, building such a good foundation beforehand, helped recruiters to build trust and to keep the candidates in mind when a new position opened up.
Do your best to raise your profile network to 500 connections.
‍
Step 7. Create a targeted resume
You may have a wealth of experience under your belt, but most recruiters don't have time to sit down and read all about you. So, there's no need to discuss your entire career history. Just select the most relevant work experiences that matter most.
‍
When Should You Use The "Easy Apply" Button On LinkedIn
As you can see, "Easy Apply" can be a very helpful tool to use when it comes to applying for a job. However, you should keep in mind there are certain times when it's suitable to use this button, and times when you shouldn't use such a button.
The 'better' times include:
When you have a great profile and a resume that matches and compliments your profile.
Your keywords have been well thought out.
When you're a little short on time.
‍
The 'not so good' times include:
LinkedIn profile is too brief. "Brevity is the soul of wit", they say, however, a profile that doesn't contain enough information usually looks a little unprofessional, and it might not sell you as an ideal candidate for a job. Make sure you have all the descriptions and relevant experiences mentioned on your profile.
If you don't use an appropriate headline. If you use "Currently looking for…" in your headline, you probably won't get very far with recruiters. State your current position straight away, and use keywords to make your profile discoverable.
Poor CV layout. Many companies use software that scans resumes and picks up on necessary information for them. If you don't craft your resume to suit these systems your resume may never be read. Recruiters rarely read all the resumes they get in person anyway.
When you're required to give a cover letter. If you click "Easy Apply" you'll likely add your resume, but forget to attach a cover letter that explains more about you and why you'd be a good fit for the role. Not adding such a simple document could cost you a potential job interview because recruiters won't know much about you. And if your resume is a little confusing to read, for example, you might've missed an opportunity to clear up any confusion and to really sell yourself in a cover letter.
‍
Conclusion
It's important that you clean up your resume and LinkedIn profile before you actively start applying for work in general, and more so if you plan on using the "Easy Apply" button. The primary goal of any profile, and resume, is to show a team of recruiters that you are the best fit for the job, and the ideal person for the company.
So, it's imperative that your profile and resume catch the eye of a recruiter.
Our graduates here at Careerist always have the support of their career coaches when it comes to writing their resume. And these career coaches also help our graduates to tailor their resumes to suit their future careers in tech.
‍
So, if you need help cleaning up your LinkedIn profile or crafting a resume, be sure to check out our blog.
‍