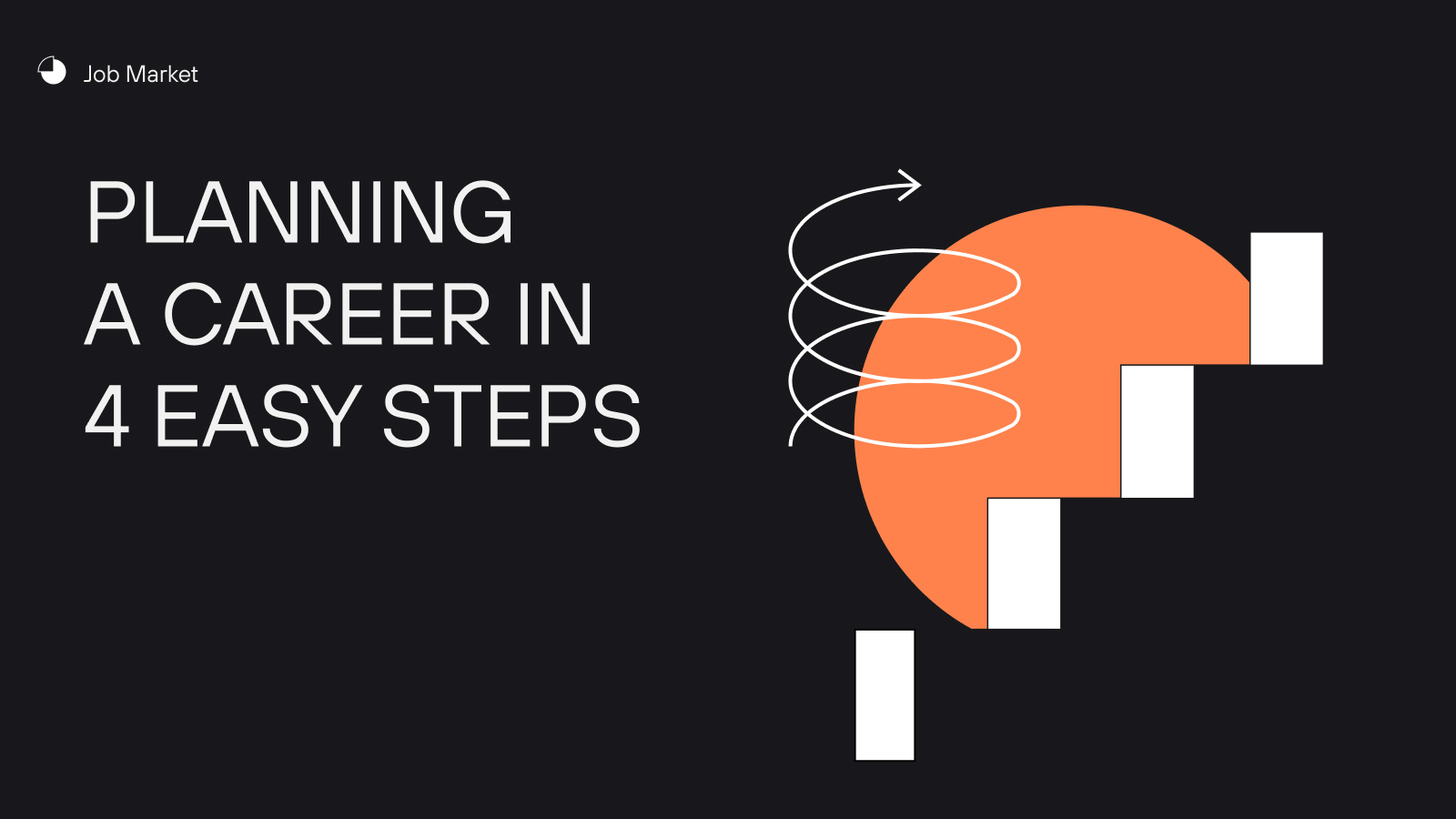 A recent post on Forbes, 'Be The Boss Of Your Career', made me think seriously about the importance of career planning in life. With so many different approaches to career planning, and so many unanswered questions it can be difficult to plan out a career.
In addition to this, I also read a survey from the Labor Department's Bureau of Labor Statistics that noted that approximately half (52%) of American employees are considering making a career change in 2021, and that 44% have already started planning their career change.
After reading both documents, I thought it was imperative that I share with you how vital it is to plan your career, and I wanted to show you how to actually start putting a plan in place.
After all, 'Where should you start with your plan?', 'How early should you start planning your career?' And, 'What steps are the most important ones to take?' are pivotal questions and in this article I'll answer them for you!
But first, what is a career plan? A career plan is a document that outlines your career goals, and highlights the actions you need to take to achieve these desired goals. It is usually set over a period of time and plans differ from person to person.
There are many reasons why people need to create a career plan, for example, some people change jobs because of stress and they need to find a path that is more suitable for them, some individuals are just starting out on their career and need guidance.
Other individuals want more flexibility at work so they have to follow a path that will help them achieve this goal, and some people want a better work and life balance, higher salaries and/or better positions, and they need a clear plan to help them work towards these goals.
A career plan can help you through difficult periods in your working life, and these plans can help you stay on track. Plus, having a plan in place can help you transition from one job to another without having to deal with extra stress.
Let's focus on the four key steps to help you create a career plan:
‍
Step 1. Self-exploration and Assessment
During this step all you need to do is write down whatever comes to mind about what is happening to you right now.
To get you started, ask yourself the following questions - 'What do I do workwise?, 'What do I like about work?', 'What kind of education do I have?' and 'How do I feel about my current job?'
You can also highlight your strengths and weaknesses, and anything you'd like to work on for the future. (Knowing your strengths and weaknesses may be helpful in the future, because this is a popular interview question).
If you have difficulties at this stage, or you do not know what to write, you can use the free writing technique. This is when you literally write down whatever comes to your mind without worrying about anything. Don't worry about your spelling and punctuation either!
This method will help you to discover what you have in your life right now, and it should highlight some general ideas about where you'd like to be in a few months time/years.
For those of you who are already in a job, this exercise can show you what you don't like about your current job, so you know what to look out for and avoid in a new job. You'll be able to clearly see what you want to change in your life.
In addition to the above, you could use the DISC assessment methodology to help you out. This is a great tool that can assist you when you try to determine your career strategy.
Additionally, the Johnson O'Connor Research Foundation has been studying human abilities since 1922. Its goal is to help people understand their basic talents and how to implement them into a career. There are 13 centers open in the USA and you can take a test with them to determine your traits. It can take up to 3 hours to complete a test and costs start around $750.
‍
Step 2. Goal Setting
The next step in creating a plan is to decide what goal(s) you want to achieve.
When it comes to choosing a goal, your goal should be specific, measurable, achievable, relevant and time-based (SMART, for short). For some, picking a goal or multiple goals, in some cases, may be easy, but for others it can be a little more tricky.
The goal you choose should be written down in a place where you can see it. So, you can write it on some paper, on an app on your phone, or in any other form that allows you to have it in sight.
It is possible to combine both Step 1 (Self-exploration and Assessment) and Step 2 (Goal Setting ) if need be.
Further to this, you can also reach out to a professional career consultant for support when it comes to setting goals. According to Google, there are over 11,000 Career Coaches in America alone. They may be very valuable to those of you who are just starting out on your journey, if you have not changed your job for a long time, or if you want to change your profession drastically.
‍
Step 3. Exploration and Experimentation
Once you have completed Step 1 and Step 2 it's time to start researching the field you want to work in.
To start with you can do a quick online search for job vacancies in your area of interest right now. When doing this take note of job descriptions, locations and if any requirements are specified.
For example, if you decide to become a professional QA tester, then look at what companies specialize in this field, and check out what requirements they stipulate.
Once you have done your research you can look into forums and sites that can help you meet people in the area you have chosen.
For example, for applicants looking to work in QA they can subscribe to professional blogs or chat with friends about the role. Doing so means that they will likely meet people who have been in the same position and they can share advice with each other.
If you are already working in a company and you want to change position then you can meet with the HR team, and your manager, to discuss your career opportunities. You can also discuss what additional steps you need to take to achieve your goal (further training, for example).
It is also very important to test whether you like, or dislike, your intended path. You can do this by trying the following options:
• Take a specialized course in a particular field to see if you like the subject
• Get an internship in a company of interest
• Try cross-posting in another department or company
• Become a volunteer in an area of interest
‍
Step 4. Analysis, Decision-Making and Taking The First Step
Now that you've completed Steps 1, 2 and 3, it is now time to gather all your information and analyze what you have found out, so that you can move forwards.
For this step you need to make a note of your goal, and amend it according to the information you have discovered along the way. Consider what job adverts taught you, what training you may need, and what conversations with colleagues have taught you, for example. Then you can make decisions based on what you know.
You should also describe the difficulties you may face along the way. For example, the need to move to another city or you must complete another expensive course. Based on the answers you give you can organize the issues based on their severity.
By listing out the potential issues you face, you can then outline ways of solving these problems. You can break issues down into small steps that you can work through over a period of time. So, in the end you will get your dream job.
It is important to remember that career development is an individual process, so you can decide how long the process will take - 1 year, 3 or 5 years, for example.
Once all of the above is done, it is time to take the first step. This could be anything from enrolling onto a course, following up with HR managers about a new role, or applying for a new job.
‍
Final Thoughts
Conscious career planning can help to reduce anxiety when you are trying to plan a career for yourself. If you follow the steps above you will understand the profession you are aiming to work in a lot better, you will be able to assess your situation, and you will be able to make quick decisions that will help you to move forwards.
Of course there will always be people who go with the flow, and end up working in a good company and in a fairly good position. But this route is a risky one to take because you may not have researched the job enough. This, in turn, could lead to professional burnout or job dissatisfaction later on.
It is much better to be clear about your goals and to work towards them. And even if external circumstances change you will always find a way to adjust your plans.
As Reid Hoffman (the author of the book The Start-up of You: Adapt to the Future, Invest in Yourself, and Transform Your Career) said: "If our eyes are open and our minds are curious, we begin to do things that increase the flow of opportunities, for example, meeting new people, opening up from an unexpected angle in certain situations and seeing opportunities among problems".
Perhaps right now you are taking your first steps, or maybe you want to increase your income, or, like many Americans, you just want to change your job - whatever your reasons are, manage your career by making a career plan.
Start creating your plan by following the steps above. And if you would like to learn more about career planning here are some additional reading links for you:
1 Forbes materials - career planning
2 Coursera course - career planning
3 Sample Career Development Plan Worksheet - from Careers Advice Online
4 Video overview - career planning from the UCD Careers Network
‍