Amichai is a tech specialist who has a wealth of experience in the tech industry, 15+ years, in fact. In this interview, he'll tell us about his experience of working in the field, and also about the soft skills that have helped him succeed in his career.
‍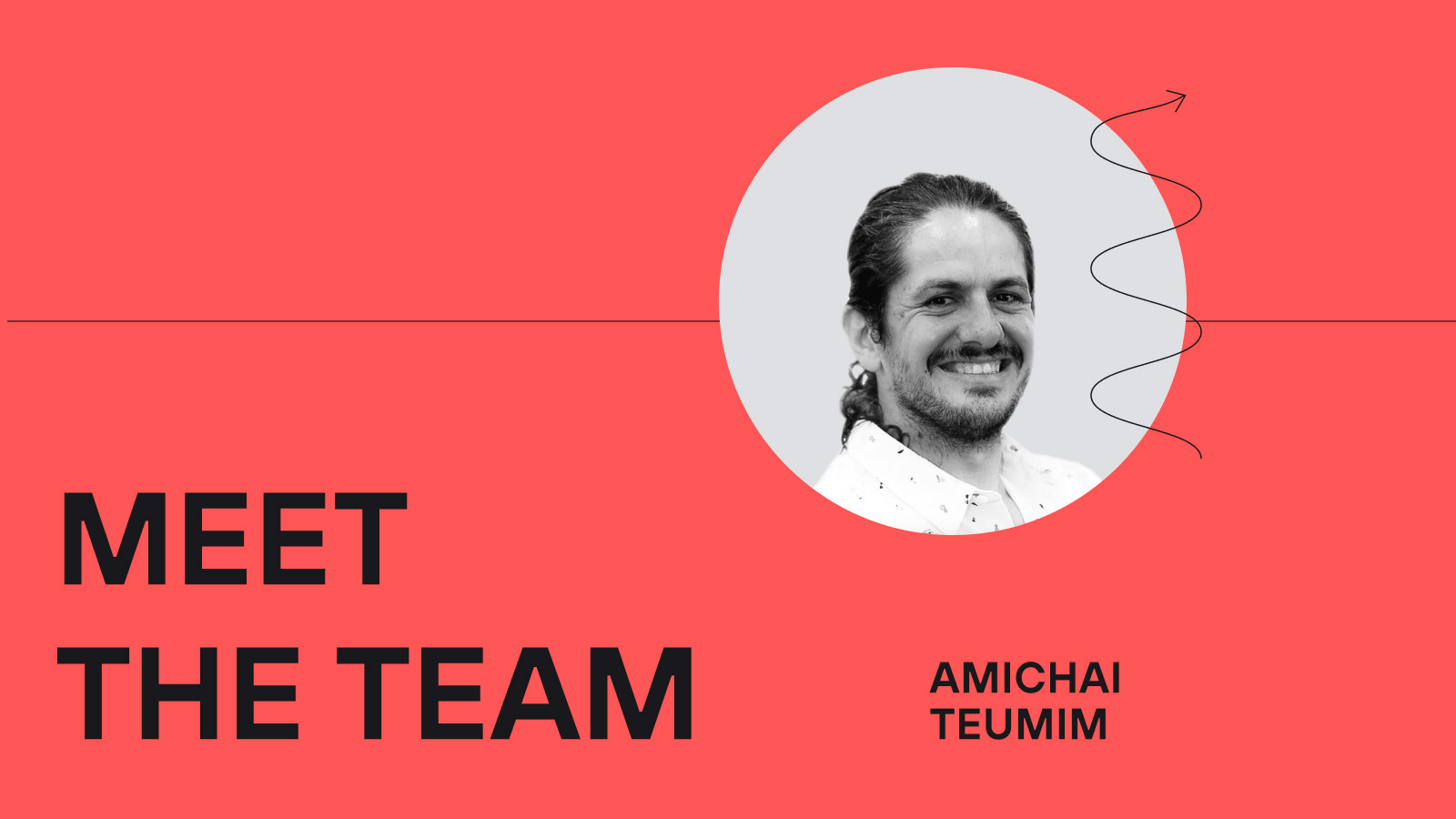 ‍
How did your journey start and why did you join the tech field?
I always liked working with tech. And when I was in the army I served in a unit that had a lot of technology. When I left the army some time later, I came across a company that was looking at hiring a tech support worker who could speak German.

I was fluent in German (because my mother is from Switzerland) and I had the right tech background, so I ended up working for the Netgear, Inc. company. (Now owned by CISCO). My role involved supporting customers in Switzerland, Germany and Austria over the telephone.

I liked the fact that this company had a lot of on-site equipment where you could learn how to do things. I got a lot of hands-on experience here.

After a while I updated my resume and it started looking really good. From there, I decided that I'd like to see more of the world, earn a bit more money and get another contract.

So, I started sending my resume out to companies all over the world, including America and Europe. I actually got an amazing response from a company in Switzerland. They offered me an incredible salary, so I took them up on their offer. I worked in Switzerland for some time and then I got a new job in Belgium, which was fun. These companies were very big and had up to 10,000 employees working for them.

After that, I had an opportunity to work with a startup in 2011. It was fun too. Building a business from scratch, bringing my expertise and experience to the table, because they didn't have the knowledge, was a good opportunity. The startup already had developers and a marketing team, but nobody had as much customer-related work experience as me.

I basically have 15+ years of experience in the technology and sales industry, and most of this time has been spent working with customers.
‍
After so many years of working in the tech field, do you still like it?
I enjoy helping people. I like breaking down big complex technology solutions and ideas into smaller bite-sized pieces for people to understand. I like bridging the knowledge gap, you could say.

Because I understand how the tech works, and because I understand people, I can help them to understand the tech that I'm talking about.
‍
Do you work remotely now or are you working in an office these days?
I've worked remotely for a long time. I think since 2011, so a long time before COVID-19.
‍
You seem to have been working remotely for a while, what's it really like?
Yes, I think I must've been one of the first ones to start working from home. It wasn't normal back then and I used to get asked, "You're working from home? Why?" a lot. In the end I used to play background sounds, so it sounded like people were behind me.

Nowadays things are different and it's okay to hear a baby crying when you're video calling someone. Some workers say it's hard working from home. But I've done both office work and remote work. I don't mind one or the other. Dealing with distractions at home is also okay for me now, and in my opinion, it's important to meet colleagues once in a while somewhere neutral.
‍
What does a typical remote work day look like? Do you have to communicate a lot throughout the day?
It's a pretty long day because I usually start working at 12 o'clock in the afternoon, and I usually go to bed at 5 or 6 in the morning.

If I have a class, it's usually 7 o'clock in the morning.

My typical day includes a lot of Zoom meetings, but many of them are not necessary. I also get a lot of calls, and several emails. I typically have a huge amount of planning, organizing and keeping track of things to do as well.
‍
Speaking about teaching, why did you decide to become a teacher at Careerist?
Actually, both of my parents are teachers, but I was always into technology. I always liked the idea of teaching, but I never did it because I didn't think that the two topics mixed. Then Careerist reached out to me via LinkedIn. They told me that they needed an instructor. I was interested because the job meant combining my knowledge and expertise with teaching.

Honestly, teaching at Careerist is extremely fun for me because you can really see the difference you are making to people's lives. You can take someone who doesn't have any knowledge in the field, teach them and they end up getting a life-changing job.

All you need to do is give people the tools they need and in 4 weeks you see completely different people. It's like magic. It's incredible watching someone go from, 'I don't know anything' to 'I can absolutely do this'.

Many graduates make drastic changes to their annual salaries too. Some go from earning $30,000 to $120,000 a year. That's life changing.

At first, I was quite sceptical, and I said 'It's a nice idea', but I was really unsure of whether it would all work out - But it did!

It's great to see people going through college and university in order to find a good career, But we have students who complete our course, do an internship and in two short months show the same great results, and sometimes they achieve even better results!

In short, just helping people to start a new and better life for themselves in a couple of months is another reason why I like teaching.
‍
Thinking back to your first interview for a tech sales person role, what was it like?
The interviews for this role are always hard. And I remember in my first interview they were asking me some very stupid questions about my weaknesses and strengths.

I didn't believe at the time that I had any weaknesses, and if I did, did they really think I would tell them about them… very silly! They still ask these questions these days, but my Mother never told me about my weaknesses, so I still can't answer the question .

In time, you build up your confidence levels. But I think it's totally normal to be nervous even when you know the answer to a question. When I run mock interviews with my students, it's natural for them to be nervous even though it's just a practice run.
‍
Can you tell us about some questions you've been asked during your interviews?
My first interview was interesting because they just asked me, 'Can you do this?', or 'Can you do that?'.

I answered "Yes, I can" to every single question. Then they said "Okay, bye!" and disappeared.

I didn't hear back from them for several weeks and in the end my wife at the time suggested that I call them. When I called them they told me, 'You're hired! We're just building a new team." It took up to 3 months to build the new team and then I started working for them. The poor communication was something I really didn't like.
‍
Sometimes people who are quite introverted are unsure of whether or not a career in tech sales is for them. What would you say to them?
When working in the field, a personality test is usually given to a candidate to see what type of personality they have. I am an introvert myself. But that hasn't limited me and I am still good at communicating with many people.

The point is, some introverts may need some time by themselves, but they don't always lose huge amounts of energy when they talk to lots of people. Of course, there are also people who enjoy interacting with others, and they want to deal with customers and talk to them, and a tech sales role is also suitable for them.

Some people say that you can't teach someone to be a good communicator. But I'm not 100% sure, I think if there's a will, there's a way.

Plus, your personality type just specifies the way you work with a client. For instance, some QA people work remotely because they don't want to interact with people too much. And in this case, this is much better for them and they produce excellent work. On the other hand, there are specialists who are totally comfortable dealing with other people and must be with people.
‍
Your idea is very interesting. What soft skills should a tech salesperson have, in your opinion?
In the past, people used to say, 'Someone who can listen', right? Then it went from listening to not arguing with a customer, and now people say empathy is the most important skill. That means that you're able to understand where the customer is coming from and you hear what they're saying.

In today's world, a customer has to like you to buy something from you, or even to use your service. It's really important because if they don't like you they are definitely not gonna use your service.

Even if it's something simple like internet service, there are so many internet providers and they might all be the same, but what makes one stand out from another is their customer service, and how much they care and value their customer base.

In short, technology comes secondary and care is number one now.
‍
What advice would you give to someone who's thinking about becoming a tech salesperson?
Well, successful salespeople boast with their colleagues about things they've achieved, because this usually means they've made good money. Sometimes there are great months when you earn a lot of commission. As a rule, it's not a single salary you earn, you have commission as well.

Here are a few more points:

If you wanna roll, you have to see there's no limit. Where commission is involved, you are usually very motivated, because you know that closing a deal means more money for you.

You've got to want to do amazing things to get amazing rewards. Your job may not be a strict 9-5, you may have to go above and beyond.
‍
How would you end this sentence, 'Tech specialists should be reliable and dependable...
… and they must be able to manage vast tasks, because there'll be plenty of them, and ensuring that colleagues are doing the work that they need to be doing is essential.
Thank you for an interesting talk. You've just demonstrated that tech specialists are cool in their own way. It's always fascinating talking to our teachers because they can tell you what it's really like to work in the tech industry.